Hace poco compartimos en nuestras redes sociales 3 expresiones comunes con la palabra "quick." Dejamos muchas expresiones más en el tintero y hoy queremos compartirlas contigo.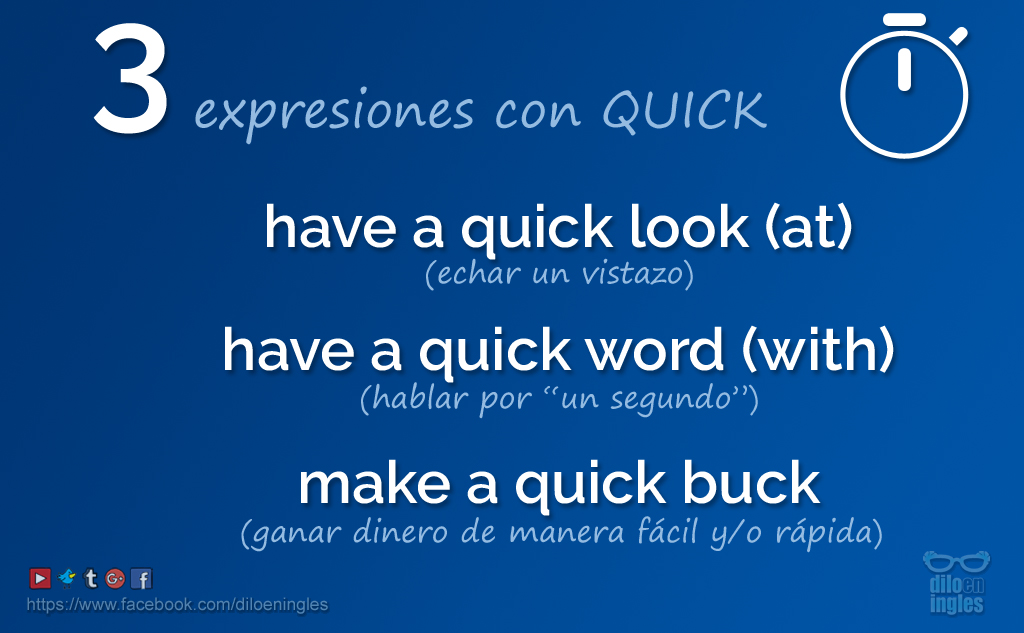 SIGNIFICADO DE QUICK
"Quick" es un adjetivo y significa "rápido". En general, significa lo mismo o algo similar en las expresiones que veremos a continuación. Algunas excepciones existen, pero no muchas.
Otros significados incluyen:
quick (n) = carne viva debajo de la uña
quick (adj) = precipitado/a
Don't be so quick to make a final decisión. (No te precipites en tomar una decisión.)
quick (adj) = inteligente, listo/a, ágil
She has a quick mind. (Es lista. / Tiene una mente ágil)
quick (adj) = pronto
Get here quick! = ¡Llega pronto!
EXPRESIONES COMUNES 
quick study = persona que aprende rápidamente
quick on one's feet = ser bueno para tomar decisiones sobre la marcha
quick on the uptake = aprender rápidamente
quick on the draw = rápido para atacar/reaccionar
quick wit = agudeza, ingenio
quick-witted = ser ingenioso/a
quick temper = un genio corto, mal genio
quick-tempered = de genio corto
quick freeze = congelado rápido
quick fix = un solución/arreglo rápido generalmente de parche
in quick succession = de sucesión rápida
get-rich-quick scheme = plan para hacerse rico rápidamente (generalmente es un mal plan o una locura)
quick-and-dirty = rápido e improvisado, así nomas
quick bread = pan que se hace sin levadura
quick time = paso rápido (término militar)
quick march = paso ligero
quick-setting = de fraguado rápido
a quick read = un libro, historia, o texto que es fácil y rápido de leer
quick to judge = juzgar apresuradamente
take a quick breath = tomar un respiro
quick bite = bocado rápido, comer algo poco pero rápido
quickie = encuentro sexual rápido
cut someone to the quick = herir a alguien con tus palabras
cut  your nails to the quick = cortarse las uñas muy cortitas hasta exponer la carne viva (también se usa "bite your nails to the quick" o "comerse las uñas hasta exponer la carne viva)
quick as a wink/as a flash = muy rápido, un flash
quick as lightning = rapidísimo, un flash, un relampago
Make it quick = Dáte prisa
Ya llegamos al final de la lección de hoy con 30 expresiones comunes con la palabra "quick." Si tienes cualquier duda o quieres saber sobre otras expresión con esta palabra, deja tu pregunta en los comentarios.
Nos vemos muy pronto con una nueva lección!
Bye

*********************************
No te olvides suscribirte a nuestro boletín. No tiene costo alguno y tendrás acceso a descuentos especiales para usar en nuestra tienda