Hola de nuevo. Hemos aquí para hablar sobre los usos de while en inglés.
Mientras publicábamos la siguiente imagen para hablar sobre homófonos, se nos ocurrió que while y sus varios significados podría llevar a confusión y así nació este post.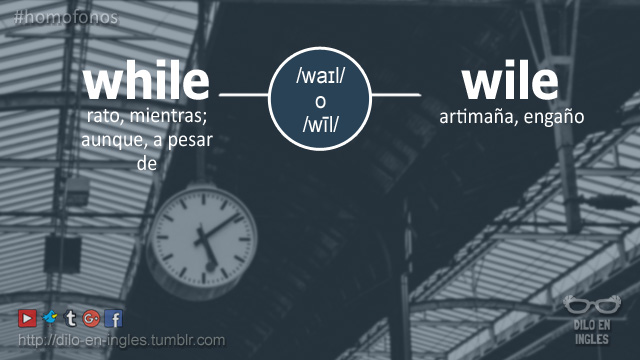 WHILE COMO CONJUNCIÓN
El significado más común de while es "mientras", pero también puede significar "aunque" o "a pesar de." Por ejemplo:
I got your text while I was driving.
Recibí tu mensaje mientras conducía.
While there's love, anything is possible
Mientras exista el amor, todo es posible.
While I'm not working right now, I don't have time to waste.
Aunque no esté trabajando ahora mismo, no me sobra el tiempo.
While I'm glad they came to visit, I wish they would leave soon.
Aunque estoy contenta que vinieron a vernos, ojalá se vayan pronto.
WHILE COMO SUSTANTIVO
Cuando while es un sustantivo, significa "rato" o "tiempo."
It's been a while since I've seen you.
Ha pasado mucho tiempo / un buen rato desde que te vi.
I talked to her a while ago.
Hablé con ella hace un tiempo.
We walked for a while.
Caminamos (juntos) por un rato.
Como sustantivo, podemos anteponer adjetivos (especialmente: "long," "short" y "quite a") para describir ese "rato" o "tiempo."
a long while = mucho rato, mucho tiempo
quite a while =muchísimo tiempo, un buen rato
a short while = poco rato, poco tiempo

WHEN versus WHILE
La manera más sencilla de explicar la diferencia entre when y while es
when significa "cuando"
while significa "mientras"
…when I saw you…
(…cuando te vi…)
…while I saw you…
(…mientras te miraba/veía)



También,
Es común usar while para enfatizar acciones continuas y su duración
when se puede usar para describir una acción puntual, pero la clave es que no pone énfasis en la continuidad o duración de esa acción
Por ejemplo:
While I was sleeping, it started to snow. (el enfoque es sobre la acción "sleeping" y no "snow")
Mientras dormía, empezó a nevar.
I was sleeping when it started to snow. (no hay énfasis en la duración de la acción "sleeping"; es solo un dato más en la oración)
Cuando estaba durmiendo, empezó a nevar.
Ya llegamos al final de esta lección. Si te quedó alguna duda, déjanos un comentario 🙂
Nos vemos pronto con una nueva lección!
*********************************
No te olvides suscribirte a nuestro boletín. No tiene costo alguno y tendrás acceso a descuentos especiales para usar en nuestra tienda.