Hola, de nuevo! Aquí estamos con un nuevo post para hablar sobre la diferencia entre HOUSE y HOME en inglés. Pareciera ser algo sencillo distinguir estas dos palabras, pero causan cierta confusión a la hora de usarlas correctamente.
EL SIGNIFICADO
house = casa, vivienda
En el fondo, el lugar físico de residencia
This house is old. (Esta casa es vieja.)
home = hogar, casa
Puede ser un lugar, pero implica un apego emocional y puede ser un apego a una situación o a una persona
Home is wherever you are. (Mi casa/hogar es donde tu estés.)
Su uso también dependerá de quién es la casa:
Cuando hablamos de nuestro lugar de residencia en inglés, solemos usar HOME:
I went home. (Me fui a casa.)
I'll see you at home. (Te veo en casa.)
Go home! (¡Vete a casa!)
A no ser que estemos hablando de la edificación física. En ese caso usamos HOUSE:
Our house isn't finished yet. (Aún no está terminada nuestra casa.)
This house is in desperate need of repairs. (Esta casa necesita arreglos urgentemente.)
We hope this house will be our lifelong home. (Esperamos que esta casa sea nuestro hogar definitivo.)
Cuando hablamos del lugar de residencia de otros, solemos usar HOUSE.
We're going to their house this weekend. (Iremos a su casa este fin de semana.)
Did you make it to your grandmother's house? (¿Llegaste a la casa de tu abuela?)
También, podemos usar home cuando queremos darle un tono más agradable a la casa de otra persona (y también a la nuestra).
Your house is lovely. (Su casa es bella)  versus
Your home is lovely. (Su casa/hogar es bella/o)
A fin de cuentas, home siempre tiene un tono de cariño y bienestar. House, en cambio, es un término sin tanta emoción.



COLOCACIONES COMUNES
Este tono de cariño y bienestar que acompaña a la palabra HOME también se refleja en sus colocaciones. Las palabras en la primera columna, tienen un tono más agradable y cercano. Las palabras en la tercera columna no son frías y distantes, pero sí son más francas y directas.
| Con home | | Con house | |
| --- | --- | --- | --- |
|  nursing home | hogar de ancianos | house cat |  gato doméstico |
|  homeschool | educar en casa | house guest | huésped |
|  homemaker | ama de casa | house husband | amo de casa |
|  home-made | hecho en casa | house plant | planta de interiores |
| home-grown | de huerto, local | house-to-house | de casa en casa |
| home owner | propietario de una vivienda | full house | local lleno, completo (naipes |
| home town | ciudad donde uno nació/se crió | house party | fiesta en una casa |
| home  remedy | remedio casero | front-of-house | vestíbulo, frente de casa |
| foster home | casa de acogida | house-warming | inauguración de una vivienda nueva |
| home game | partido local | house call |  visita médica a domicilio |
| homey | hogareño; compinche | house fire |  incendio doméstico |
Aprovechamos de incluir algunos sinónimos y palabras relacionadas: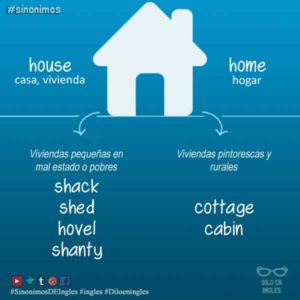 IDIOMS (modismos)
| | |
| --- | --- |
| get along like a house on fire | llevarse muy bien |
| set your house in order | poner orden, arreglar las cosas |
| the big house | la cárcel; la casa principal |
| There's no place like home. | No hay como la casa de uno. |
| Home is where the heart it. | El hogar es donde está el corazón. |
Así llegamos al final de esta lección. Esperamos que hayan aprendido a distinguir house (vivienda física) y home (hogar) y que incorporen sus colocaciones y modismos a sus conversaciones diarias.
Nos vemos pronto en una próxima clase. Bye!

*********************************
No te olvides suscribirte a nuestro boletín. No tiene costo alguno y tendrás acceso a descuentos especiales para usar en nuestra tienda.